Amazon Web Services
There are three important things that needs to be stated ahead of this section:
Thanks to the AWS security mechanisms, you are in full control over what you provide us access with
We only require the minimum data and information needed to provide the service
A version of Teevity called Teevity Incognito allows you to run the service on your AWS account, through the AWS Marketplace, without sharing any data with us.
Activating AWS Programmatic Billing
Programmatic Billing is a feature from Amazon that enables AWS users to receive precise data about their usage and cost. It's not very user-friendly since it works by storing CVS and ZIP files in an S3 bucket.
Teevity Cloud Costs Analytics and Teevity Ice as a Service use this (among other things) as their data source for AWS accounts.
Setting up account
Billing bucket info
First, provide the name of the bucket you created for your programmatic billing and the region of that bucket.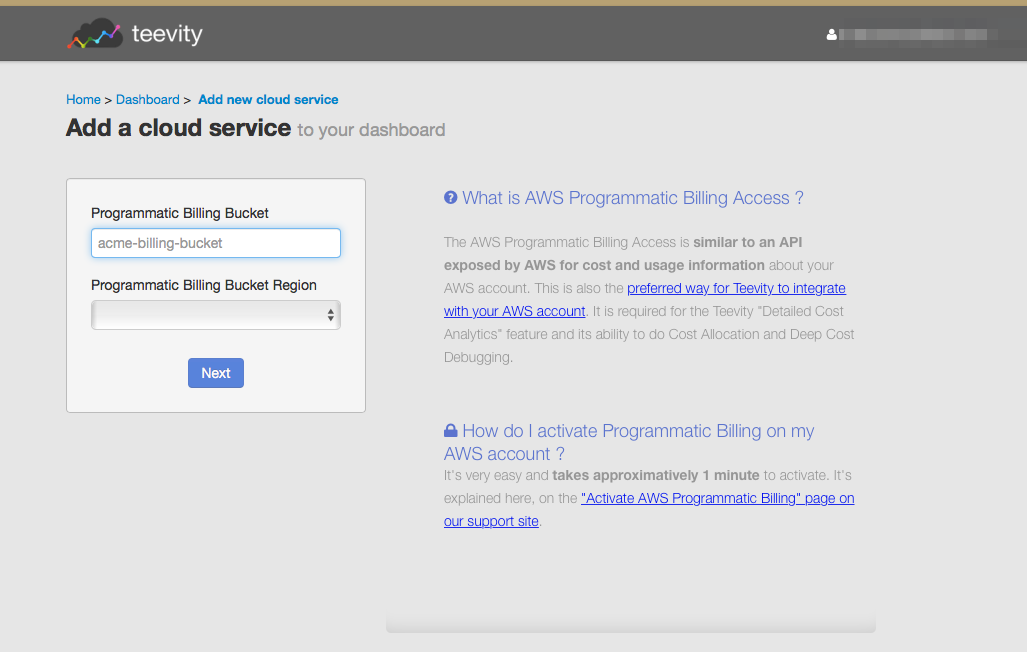 AWS Login info
This is the step that will allow Teevity services to connect to your AWS account.
Important
There are 2 methods to connect your AWS environment: the first one is based on an IAM user (described below) and the second one is based on an IAM Role who enable a "Trust Account Relationship". The latter is recommended by Amazon and described in more details here.
In both cases we provide scripts to setup the connection between our environment and yours. Read this page for more information and download the scripts.